Zema Jewels Mint Green Art Nouveau Fine Porcelain Bracelet Handmade Jewelry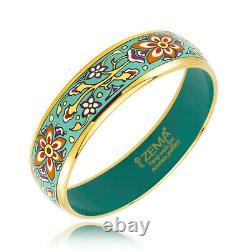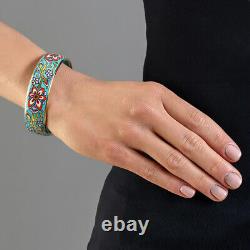 Zema Jewels Handpainted Art Nouveau Pur Pur Floral Pattern Fine Porcelain Bracelet for Woman. This Art Nouveau-inspired bracelet exudes delicate, airy elegance. Its flowing design is adorned with intricate floral motifs. The bracelet is meticulously handcrafted from fine porcelain and hand-painted by skilled artists, accentuated with exquisite 24-carat gold details. Collection: ZEMA MINT GREEN ART NOUVEAU.
Product: ZEMA Hand-Painted Fine Porcelain Bracelet. Color: Mint green with 24-carat gold embellishments.
Small size: 63 mm (2.48 inch). Regular size: 65 mm (2.55 inch). Large size: 70 mm (2.75 inch). Decorated part: 21 mm (0.83 inch) wide. Note: The image is for illustration purposes only, and there may be slight variations in color compared to the original product!
This bracelet is a true embodiment of the Art Nouveau style, making it a graceful and timeless accessory to complement various outfits. Country of Origin: Hungary (Europe, EU).