Wilhelm Kralik Art Nouveau Antique Art Nouveau Beautiful Shape Green Glass Vase 30CM 1900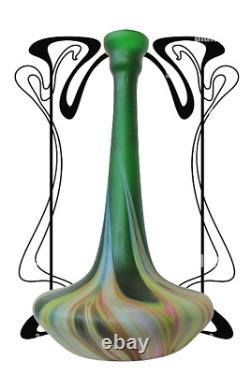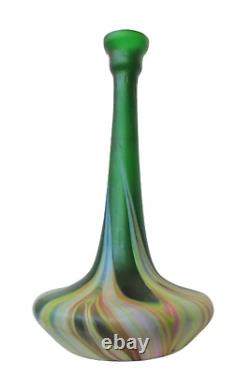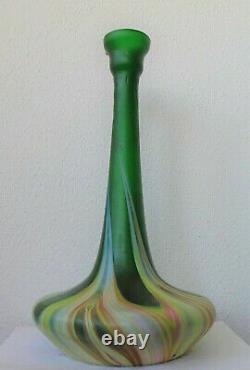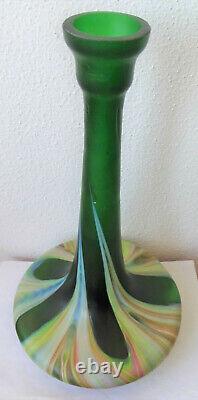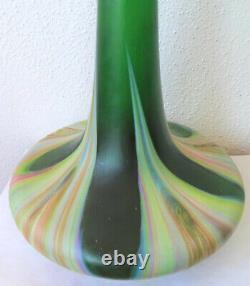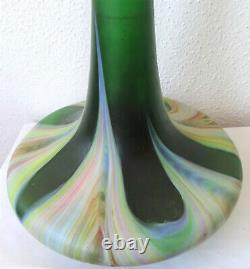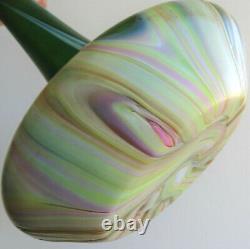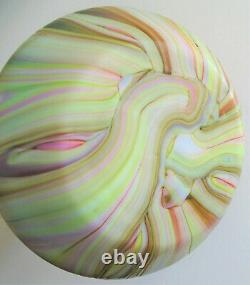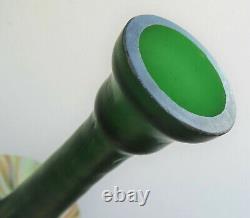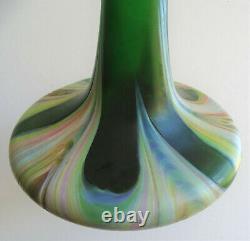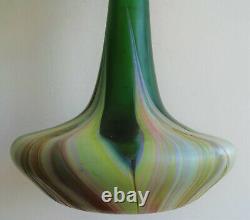 Hochdekorative Jugendstil Antike Seltene große Grünglas Vase aus den Wilhelm Kralik & Sohn Eleonorenhain Österreich Glasfabrik 1900/05 Jahren. Der Art Nouveau Ära und Stil aus der Zeit 1900! Wilhelm Kralik Sohn war eine künstlerisch bedeutende Glasfabrik in Eleonorenhain, Böhmen. Im Jahr 1881 setzten sich die vier Erben der Firma Meyr's Neffe auseinander und die Glashütten in Eleonorenhain und Ernstbrunn (bei Christianberg) fielen an Johann und Heinrich Kralik von Meyrswalden.
Sie firmierten fortan unter der Bezeichnung Wilhelm Kralik Sohn, wobei Johann später wieder ausschied. Dafür wurden 1896 Wilhelm Mathias Kralik von Meyrswalden und Gottlob, der Sohn des Heinrich, als Inhaber aufgenommen. Nach dem Tod von Heinrich Kralik von Meyrswalde im Jahr 1911 übernahmen seine Söhne Alfons und Siegfried Kralik von Meyrswalden die Firma.
Der Bruder Gottlob Kralik von Meyrswalden verließ die Firma und übernahm in Deutschland in Fürstenberg (heute Bestandteil von Eisenhüttenstadt) die dortige Glashütte. Eine Klassische Imposante große Grüne opalglasvase irisierend, farbige verschmolzene verschmelzungsfäden strömen von unten. Eine solche Vase befindet sich im Passauer Museum. Hoch 30 cm, Dürchmesser: oben 4,5 cm, unten in Breite Stelle 17 cm. Zustand: Mit gebrauchten sehr guter Zustand Unbeschädigt mit kleine Älteres gebrauchsspüren.
Auf Originalität die Vase - Garantiere! Ich bitte Sie, nur zu bieten, wenn Sie ernsthaft daran interessiert sind! Vor einem Kauf sollten Sie sich die Artikelbeschreibung aufmerksam durchlesen!
Bitte stellen Sie alle Fragen vor dem Kauf! Händlerbund Management AG Mitglied - Mitgliedsnummer: 396410 IHK - München Handelskammernummer: 10002047692. This item is in the category "Antiquitäten & Kunst\Porzellan, Keramik & Glas\Dekorative Ton- & Glasware\Vasen". The seller is "antiqueworld1968" and is located in this country: DE. This item can be shipped worldwide.
Herstellungszeitraum: 1900-1919
Marke: Kralik
Herkunft: Böhmen
Material: Glas
Thema: Abstrakt
Herstellernummer: 89
Herstellungsstil: Kunstglas
Stil: Jugendstil
Produktart: Vase
Herstellungsjahr: 1900
Farbe: Grün