Vase Johann Lötz widow monastery mill, Austria butterfly decor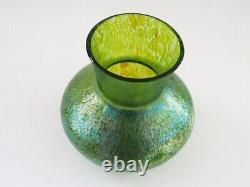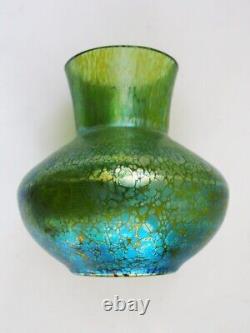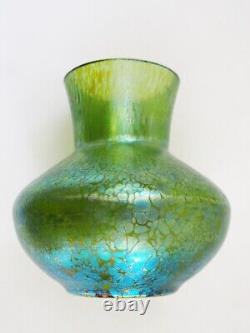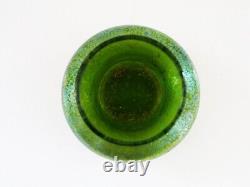 Beachten Sie auch meine anderen Objekte im Antiquitätenangebot zu supergünstigen Aufrufen. Gedrückte Kugelvase mit trichterförmigem Hals. Diese Loetz Vase wird von uns als Agent verkauft und ist differenzbesteuert nach §25a UStG; daher kein Ausweis der MWSt. Sie tragen bei Widerruf die unmittelbaren Kosten der Rücksendung der Waren. Die Kosten werden national auf höchstens etwa Euro 6,90 geschätzt. This item is in the category "Antiquitäten & Kunst\Porzellan, Keramik & Glas\Dekorative Ton- & Glasware\Vasen". The seller is "dult3" and is located in this country: DE.
This item can be shipped worldwide., Algeria, Angola, Benin, Botswana, Burkina Faso, Burundi, Djibouti, Côte d'Ivoire (Ivory Coast), Eritrea, Gabon Republic, Gambia, Ghana, Guinea, Guinea-Bissau, Cameroon, Cape Verde Islands, Kenya, Comoros, Democratic Republic of the Congo, Republic of the Congo, Lesotho, Liberia, Libya, Madagascar, Malawi, Mali, Morocco, Mauritania, Mauritius, Mayotte, Mozambique, Namibia, Niger, Nigeria, Rwanda, Reunion, Zambia, Senegal, Seychelles, Sierra Leone, Zimbabwe, Somalia, Saint Helena, Swaziland, South Africa, Tanzania, Togo, Chad, Tunisia, Uganda, Western Sahara, Central African Republic, Egypt, Equatorial Guinea, Ethiopia, Afghanistan, Armenia, Azerbaijan Republic, Bangladesh, Bhutan, China, Georgia, India, Japan, Kazakhstan, Kyrgyzstan, Maldives, Mongolia, Nepal, Pakistan, Sri Lanka, South Korea, Tajikistan, Turkmenistan, Uzbekistan, Anguilla, Antigua and Barbuda, Aruba, Bahamas, Barbados, Belize, British Virgin Islands, Costa Rica, Dominica, Dominican Republic, El Salvador, Grenada, Guadeloupe, Guatemala, Haiti, Honduras, Jamaica, Virgin Islands (U.), Cayman Islands, Martinique, Montserrat, Nicaragua, Netherlands Antilles, Panama, Puerto Rico, Saint Kitts-Nevis, Saint Lucia, Saint Vincent and the Grenadines, Trinidad and Tobago, Turks and Caicos Islands, Albania, Andorra, Belgium, Bosnia and Herzegovina, Bulgaria, Republic of Croatia, Cyprus, Czech Republic, Denmark, Estonia, Finland, France, Gibraltar, Greece, Guernsey, Hungary, Iceland, Ireland, Italy, Jersey, Latvia, Liechtenstein, Lithuania, Luxembourg, Macedonia, Malta, Moldova, Monaco, Montenegro, Netherlands, Norway, Poland, Portugal, Romania, San Marino, Serbia, Slovakia, Slovenia, Spain, Svalbard and Jan Mayen, Sweden, Switzerland, United Kingdom, Vatican City State, Bahrain, Iraq, Israel, Yemen, Jordan, Qatar, Kuwait, Lebanon, Oman, Saudi Arabia, Turkey, United Arab Emirates, Bermuda, Greenland, Canada, Mexico, Saint Pierre and Miquelon, American Samoa, Australia, Cook Islands, Fiji, French Polynesia, Guam, Kiribati, Marshall Islands, Micronesia, Nauru, New Caledonia, New Zealand, Niue, Palau, Papua New Guinea, Solomon Islands, Western Samoa, Tonga, Tuvalu, Vanuatu, Wallis and Futuna, Brunei Darussalam, Hong Kong, Indonesia, Cambodia, Laos, Macau, Malaysia, Philippines, Singapore, Taiwan, Thailand, Vietnam, Argentina, Bolivia, Brazil, Chile, Ecuador, Falkland Islands (Islas Malvinas), French Guiana, Guyana, Colombia, Paraguay, Peru, Suriname, Venezuela.
Herkunft: Böhmen
Marke: Loetz
Farbe: Grün
Produktart: Vase
Stil: Jugendstil
Herstellungsland und -region: Österreich
Material: Glas
Herstellungszeitraum: 1900-1919