Pair of rare Kralik Iridescent green overshot Art Nouveau Glass Vases metal top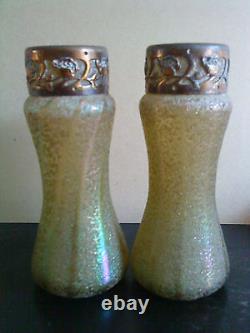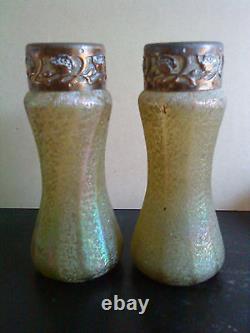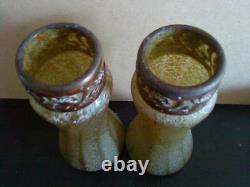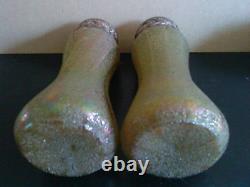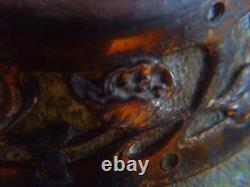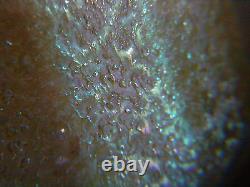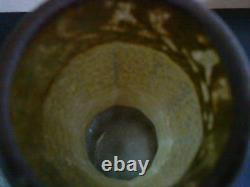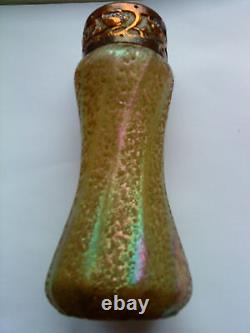 These rare, green iridescent vases are made of overshot glass. They measure approximately 16cm (6.25 inches) tall. Rare to find one of these, but to find a matching pair, AMAZING. This style of glass is beautiful... It catches the light and just glistens.
Sometimes known as frit glass, craquelle glass or ice glass, it's also occasionally (but mistakenly) called crackle glass. It's created by rolling the still hot, hand blown item into tiny shards of glass. They are in very good condition. The vases will be very well packaged tracked and insured. Overshot glass was originally made in Venice the 1600s, after which production tailed off. The process was revived in America circa 1845-50 by the Falcon Glassworks and the style taken up by manufacturers in the USA and England, including Boston and Sandwich, Kralik, Hobbs Brockunier and Stourbridge. I believe that Richardson in England may have made some overshot glass too. Height: 16cm or 6.25 inches.
Widest diameter: 7cm or 2 3/4 inches. Top: 5cm or 2 inches. Base diameter: 5.5cm or 2 1/8 inches.