Loetz 1900 Austria Art Nouveau Miniature Cabinet Vase In Green Iridescent Glass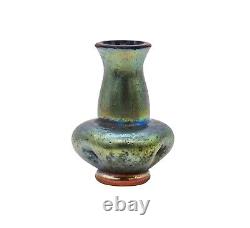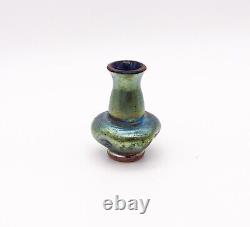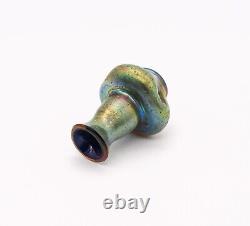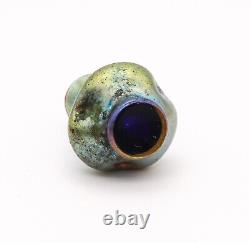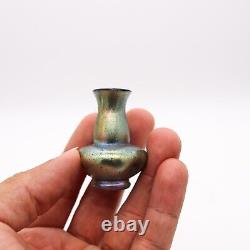 Miniature glass vase designed by. Gorgeous and very beautiful antique miniature cabinet glass vase, created by. Made in Bohemia, Austria during the art nouveau period, back in the turn of the 20th century, circa 1900.
Crafted with a triangular shape similar to the. In blown blue glass with iridescences treatment of blue and green color.
Measurements : 38 mm by 38 mm by 50 mm (1.49 x 1.49 x 1.97 Inches). In 1836, Johann Eisner established a glassworks in the Southern Bohemian town of Klostermühle, today part of the Czech Republic and called Klásterský Mlýn. Susanne was the widow of Johann Loetz, a glassmaker about whom we know very little.
Gerstner transferred sole ownership to Susanne shortly before his death in 1855, and she successfully led and expanded the company during the subsequent 20 years, manufacturing mainly crystal, overlay and painted glass. In 1879, Susanne transferred the company - now called'Johann Loetz Witwe' - to Maximilian von Spaun, the son of her daughter Karoline. One year later, von Spaun hired Eduard Prochaska and the two of them modernized the factory and introduced new, patented techniques and processes. The first fruits of this collaboration were exciting innovations in Historicism glass, including Intarsia and Octopus glass and the very popular marbled glass which imitated semi-precious stones like red chalcedony, onyx and malachite.
Success at exhibitions in Brussels, Munich and Vienna were crowned by awards at the Paris World's Exposition in 1889. In 1897, von Spaun first saw Tiffany Favrile glass exhibited in Bohemia and Vienna, and this convinced him that the art nouveau style was also the way to go for Loetz Witwe.
The next eight years were to be the most artistically significant and profitable period in the entire history of the company. The glassworks created large numbers of its own new designs of iridescent, trailing art nouveau glass, sometimes in collaboration with well-known artists and designers like Marie Kirschner and Franz Hofstötter. The zenith of Loetz art nouveau glass was epitomized by the so-called Phänomen series of designs, much of it designed by Hofstötter, which won a Grand Prix (alongside Tiffany, Gallé, Daum and Lobmeyr) at the Paris World's Exposition in 1900. The company's success during this period had two prime drivers - the technical expertise of Prochaska and the business acumen of von Spaun.
Loetz Witwe created many of its own designs, and also supplied glass commissioned by major customers like E. Bakolowits in Vienna and Max Emanuel in London. Band 1 Werkmonographie LÖTZ (Johann Loetz Witwe), RICKE (Helmut), VLCEK (Tomas), ADLEROVA (Alena), PLOIL (Ernst). Glas - Glass - Verre - Vetri.
Condition : The overall condition of this vase is excellent. Beside the little normal wear, there is no damage to the glass. This piece has been carefully inspected to guarantee the condition and authenticity.