Doulton Burslem Silver Mounted Flambe Green Desert Scene Series Ware Vase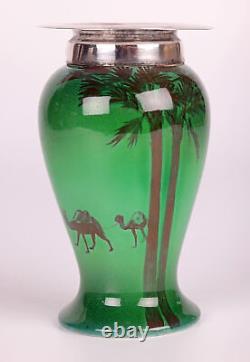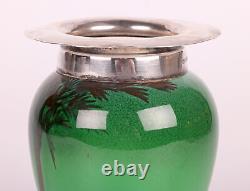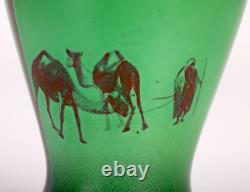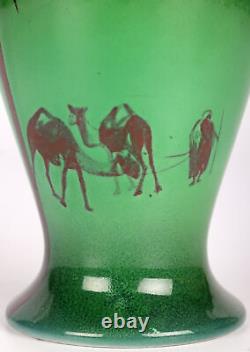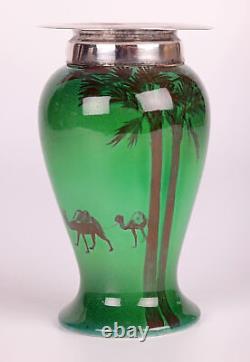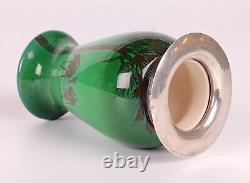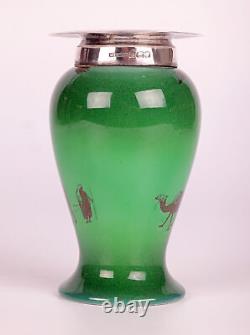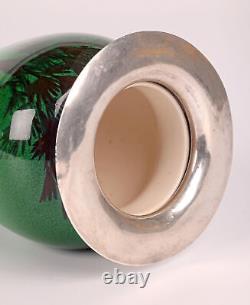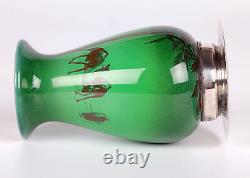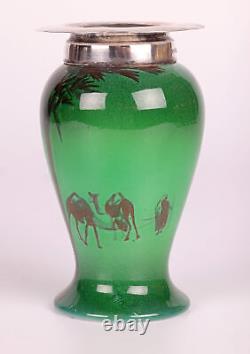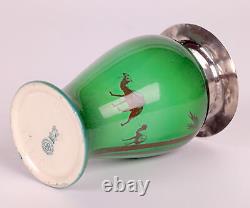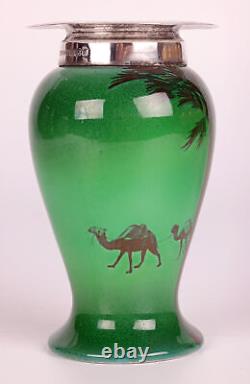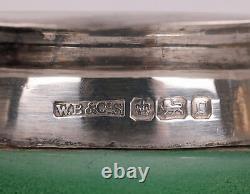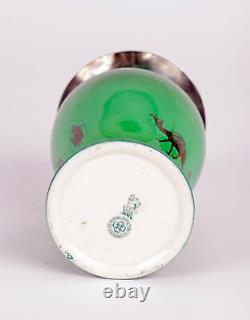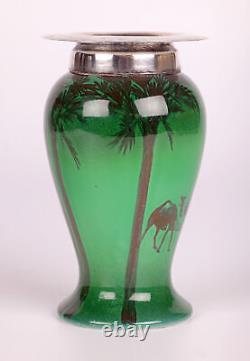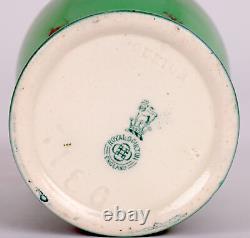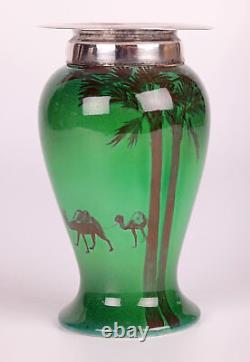 Doulton Burslem Silver Mounted Flambe Green Desert Scene Series Ware Vase. A fine and unusual Art Nouveau silver mounted Doulton Burslem series ware green flambe vase with a desert oasis scene dating from around 1909. The thickly potted ceramic vase stands on a narrow skirted foot with a tall bulbous shaped body with a narrow funnel shaped top mounted with a silver wide flat topped rim. The body of the vase is decorated in green flambe style glazes and is hand painted with a continuous desert scene with a figure with camels standing below two tall palm trees in an oasis. The scene is painted in tones of brown against a bright green ground.
The silver mount bears clear impressed London silver assay marks incorporating date marks for 1909. The vase has a green printed makers mark and is impressed DOULTON and is numbered 186.
Provenance: Acquired from the UK Art Market. Condition: In good original condition with wear associated with age and use.
Size: Height: 11.25cm, Diameter: 6.75. Packaging Process We are a small team and take great pride in ensuring that all out items are packed well and sent using appropriate strong packing materials with appropriate protection.
We also believe in recycling packing materials where-ever possible and where the condition of the packing materials is suitable for this. All items are wrapped in specialist protective tissue paper protecting the surface of all antiques and collectibles and then in layers of bubble wrap secured with FRAGILE marked tape. All items, where appropriate are surrounded using appropriate soft fill chips, biodegradable whereever possible, and help make the contents safe and free from impact risk.
All edges of boxes are fully taped and all are finished with FRAGILE warning tape. Multiple Items On occasions clients may wish to order a number of items being delivered to the same address and we will ensure that these are packed into a single or multiple boxes ensuring that the safety of the contents is not jeopardised. If this is not possible we will ensure that the client is advised of when to expect dispatch of their item. We always expedite using the most efficient and effective service. Being able to share one's passion is the dream! As a young boy Frank McKenzie would spend his time visiting local'Jumble Sales' and foraging landfill on old railway lines for abandoned treasures. Since then and as an entrepreneur and accountant he has had a diverse and interesting career. With the emergence of the Internet this has since evolved into a thriving business.
This has since expanded to incorporate branded handbags and jewellery. In 2021 the watch business was acquired by German online watch platform Chrono24 and Frank continued to run Xupes but with handbags and jewellery.
He founded McKenzie Art & Design to handle the sale of his vast collection. Today the business is a LAPADA accredited member and Frank enjoys sharing his life-long passion with dealers and interior designers worldwide and has also developed relationships with private collectors across the globe. Above all the business prides itself in its honesty and integrity and provides a service second to none with the emphasis on delivering items safely and securely. The focus has always been, and remains, in ensuring that our clients are always happy and satisfied with the service they receive.