Art Nouveau Enamel Gold Earrings Green Four Leaf Clover Shamrock Earrings Screw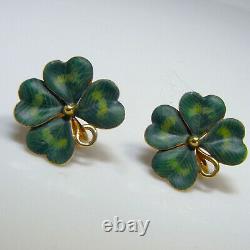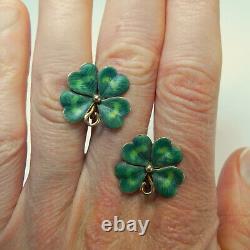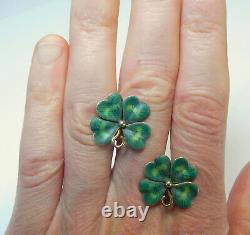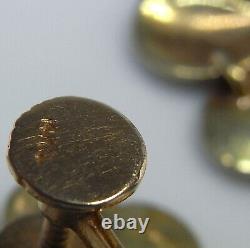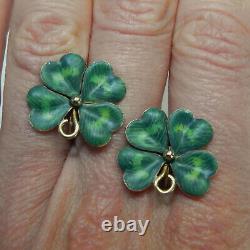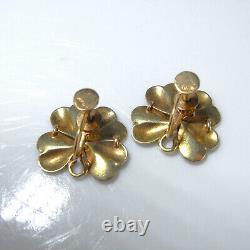 Here we have an exquisite pair of antique genuine Art Nouveau period hand painted handmade enamel lucky four leaf clover earrings in 14K yellow gold. The vivid St Patrick's day emerald green and lime green enamel is exquisitely executed in these rare late 19th century earrings. The details are superb in each enamel and solid gold clover. Even the textures of the veins in each of the clover leaves are painted delicately, there is a shaded variation in the leaves also making them look very realistic. The enamel work is of very fine quality and painted so beautifully they look just like real life size four leaf clovers!
They are a mirror image pair the solid 14K gold stems of the clovers mirror each other to frame the face beautifully. These earrings are handmade in their entirety. To the reverse original late 19th century screw back fittings are present.
Together the pair weigh 6.18 grams. They are marked 14K on the reverse meaning solid 14 karat yellow gold, this confirmed by testing Each enamel clover measures 11/16" tall by 3/4" wide approximately (18mm by 19mm). These gorgeous late 19th century Art Nouveau hand painted enamel and gold lucky four leaf clover earrings would make a perfect gift for a birthday, an anniversary or a special occasion such as a graduation.
They are in beautiful condition as the photos depict and are ready to gift or to wear. These earrings are an amazingly rare find indeed with the majority of jewelry in this style and from the Art Nouveau period being pendants or pins and very rarely ever earrings. The photos form part of the description. Like all colors there is a color variation that occurs in different lighting conditions both inside but also outside, even the time of day can make the color appear a little different.
We do our best to show colors as we see them. Color perception is highly individual and some people can perceive more colors than others, also colors can appear somewhat different on different screens and devices due to variations in screen hardware and device display settings.