Art Nouveau 9ct gold peridot pendant with chain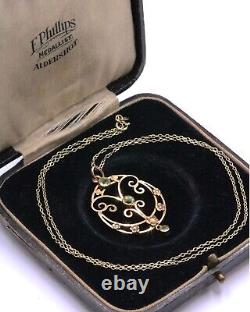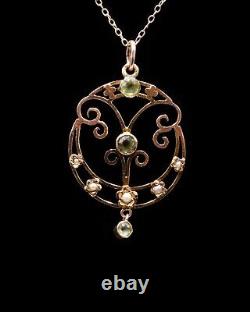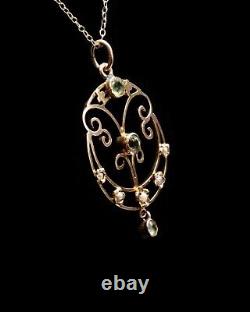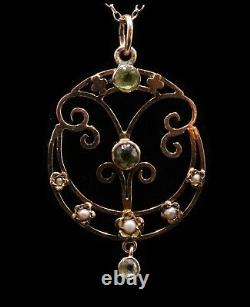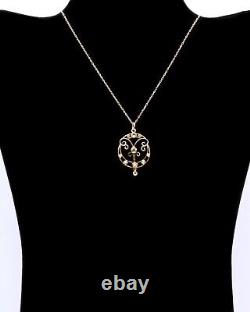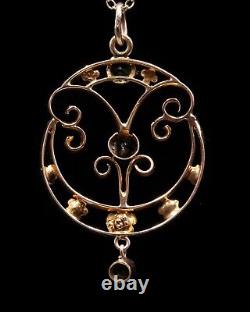 A lovely Edwardian pendant with a unique circular design made from 9ct rose gold. The pendant features three peridot gemstones and delicate seed pearls.
The pendant comes with a newer 9ct yellow gold trace link chain that is 44cm long, and while the gold colors are slightly different, they complement each other well. Both the pendant and the chain are marked as 9ct gold. This piece of jewellery is a genuine antique from the Edwardian period, which was known for its stylish and intricate designs. The pendant is in good used condition overall, with some light surface wear that is expected with its age.
The measurements of the pendant are approximately 39mm long, and the total weight, including the chain, is around 2.75 grams. Rose gold is a type of gold alloy that combines yellow gold with copper and silver to create its unique warm color. It became popular during the 19th century and was highly prized by Russian nobility. Peridot is a striking gemstone known for its vibrant green and golden hues. It was historically believed to bring luck and ward off evil spirits, especially when set in gold.
Peridot is the birthstone for August and is associated with 16th anniversaries. Seed pearls are small natural pearls, usually less than 2mm in diameter. They were widely used in fine jewelry during the late 19th and early 20th centuries. These pearls were often used in elaborately decorated pieces like brooches, pendants, pins, and earrings.
Pearls have a symbolic association with purity, chastity, and delicacy. They are the birthstone for June and are also associated with 30th anniversaries.
Overall, this pendant is not only a beautiful piece of handmade jewellery from a stylish historical period but also carries with it the charm and symbolism associated with its materials and gemstones.