Art Nouveau 9ct gold peridot and pearl pendant with chain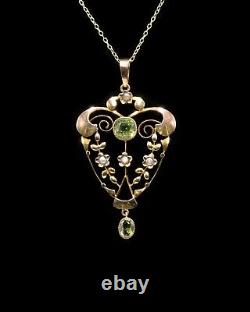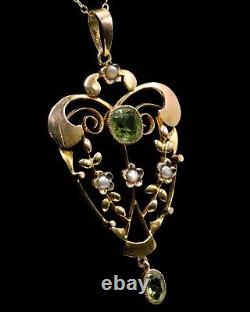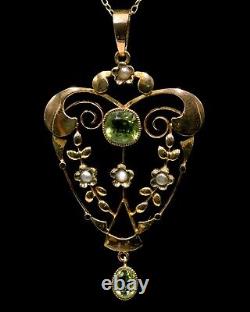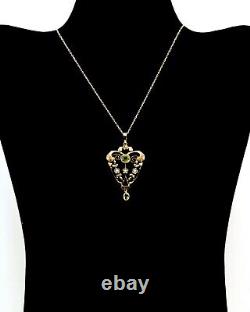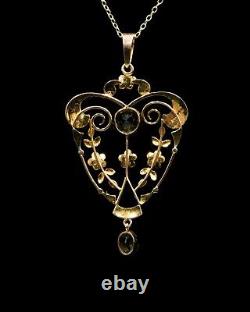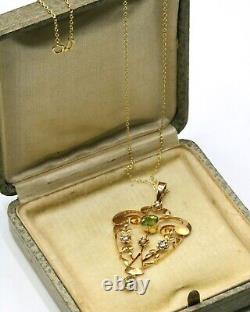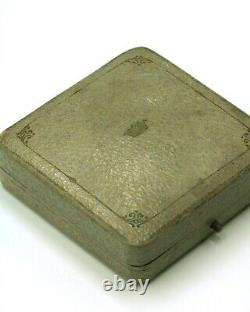 A lovely piece of Edwardian jewellery. This pendant is an original, genuine antique item made from 9ct rose gold.
It features two striking peridot gemstones and delicate seed pearls. The pendant comes with a newer 9ct gold chain measuring 46cm in length. The pendant's design reflects the stylish period of the Edwardian era, known for its elegance and intricate craftsmanship. Despite its age, the pendant is in good used condition, showing only light surface wear, which is to be expected due to its age. For a more detailed assessment of its condition, high-resolution photos are provided.
In terms of measurements, the pendant's length is approximately 51mm, and the combined weight of the pendant with the chain is around 4.4 grams. The pendant is crafted from 9ct rose gold, a blend of pure gold, copper, and silver that creates its warm and distinctive colour.
Rose gold gained popularity during the 19th century and was prized by individuals, including Russian nobility. The pendant showcases two peridot gemstones. Peridot is known for its remarkable blend of bright green and golden hues. Throughout history, it has been linked with luck and believed to possess the power to ward off evil spirits.
This belief was particularly amplified when peridot was set in gold. Notably, peridot is the birthstone for August and is associated with 16th anniversaries. The inclusion of delicate seed pearls adds to the pendant's elegance. Seed pearls, typically measuring less than 2mm in diameter, were highly favoured in fine jewellery during the late 19th and early 20th centuries. These pearls were often used to create intricately adorned pieces, such as brooches, pendants, pins, and earrings.
Pearls symbolize purity, chastity, and delicacy, and they are the birthstone for June and 30th anniversaries. Overall, this Edwardian pendant is not only a beautiful accessory but also a tangible piece of history. Its combination of rose gold, peridot gemstones, and seed pearls captures the essence of a stylish bygone era, making it a wearable work of art with cultural and historical significance.